Eight, Seven,
Six, Five… Four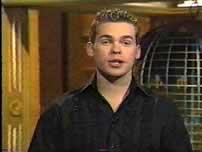 Will Derrick Shore be the last person remaining
at Channel One News?
In a little over a year's time, Channel One News has cut back from eight news anchors to four.
This drastic cut is obviously due to the financial troubles that plague the company.
The remaining anchors are Derrick Shore, Seth Doane, Alexandra Montoya and Errol Barnett.
This summer Lauren Jiggetts jumped ship after spending a year with the company. Joshua Toole was also an anchor for one year and was the only personality that seemed a genuine fit for the teen infotainment show. He too has walked away from the sinking ship. Janet Choi had been a longtime anchor on Channel One and she bid students farewell at the end of the last school year.
Much like Krystal Greene who left Channel One and then mysteriously popped up again later on the show, Choi appears to be having trouble finding work because she still appears randomly on Channel One, although she has been stripped of her title as "anchor."
The prospects are not good for Channel One News.
The vast majority of American secondary schools do not have Channel One wasting their students' time. Thank your school administrators and school board for refusing to sell out your community's schoolchildren.