From Jim Metrock: Here's Channel One's statement. It was published on Twitter yesterday, June 27, 2018 – the official death date for the company.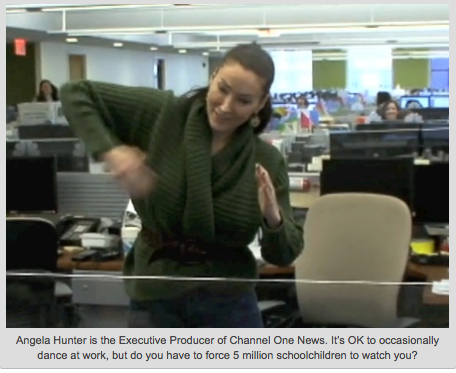 [Above: One of the few pictures on the internet of Channel One's executive producer.]
Ms. Angela Hunter has been listed as Channel One's executive producer for many years, yet she rarely gave interviews.  It always seemed like she was embarrassed to be associated with Channel One News.  She finally publishes something about her company and, of all things, it is to announce her company is ceasing operations.
Ms. Hunter doesn't mention Channel One's history of irresponsible advertising as a reason for their demise.  Nor does she mention the millions of dollars the company spent on shady lobbyists (Jack Abramoff sound familiar?) that alienated so many educators and parents.  Nor does she mention the continual loss of audience Channel One has experienced since 2000.  Schools no longer had time to waste with Channel One's insipid movie commercials and junk food ads.
Rest in pieces, Channel One News.
——–
Channel One Community:
For 28 years, Peabody-award winning Channel One News has been delivering news content created just for young people to millions of students in classrooms nationwide every day. We have considered it a privilege and honor to play a role in helping students become informed, global citizens.
Today, we are sharing some difficult news with you. The 2017-2018 school year marked the final season for Channel One News. Our last broadcast aired in May, and we will be winding down ongoing operations.
Channel One News reporters have traveled the globe, bringing the most important stories to the classroom. We have interviewed US Presidents, lawmakers, world leaders, history-makers, sports figures and celebrities. Many of our foremost broadcast journalists got their starts in our newsroom.
We believe that young people bring vital and unique perspectives to the table, and we have worked to give students access to quality reporting that prioritizes their points of view while covering some of the most challenging topics of our day. We were one of the first news organizations to send a journalist to North Korea to report on the secretive nation; we have covered conflict in Chechnya, Iraq and Afghanistan; we have exposed atrocities occurring globally, from the Rwanda genocide to the Rohingya crisis in Myanmar.
Through our coverage of climate change and other environmental issues, we have encouraged young people to act to protect the planet. Channel One News has also inspired millions of students to take part in the civic process through hands-on initiatives, like the six OneVote presidential elections—the largest mock election held for young people.
We're incredibly proud of the legacy we've created, and of the students and teachers we have worked with daily who are so passionate about media literacy and current events.
While the daily broadcasts have ended, the Channel One News video library and curriculum will remain active for premium subscription customers through the length of existing contracts. Customers can learn more about next steps here.
Over the past year, we have seen more and more young people bravely raise their voices about what matters to them and their peers. We applaud these efforts and encourage those passionate advocates to continue standing up for the issues they believe in.
We want to thank the entire Channel One News community wholeheartedly for being a part of our story.
Thank you,
Angela Hunter
SVP, Executive Producer
Channel One News