From Jim Metrock:
Let's go through this sordid situation step by step.
1.
There is a terrible new show on MTV called "Skins."
The Parents Television Council calls Skins "the most dangerous program ever" for children."
Here is one article about the show. Just type "MTV Skins" in a search engine and you'll see dozens of articles blasting this program which some argue may legally be considered child pornography.
MTV's Naked Calculation Gone Bad
Published: January 23, 2011
What if one day you went to work and there was a meeting to discuss whether the project you were working on crossed the line into child pornography? You'd probably think you had ended up in the wrong room.
And you'd be right.
Last week, my colleague Brian Stelter reported that on Tuesday, the day after the pilot episode of "Skins" was shown on MTV, executives at the cable channel were frantically meeting to discuss whether the salacious teenage drama starring actors as young as 15 might violate federal child pornography statutes.
Full story at: http://www.nytimes.com/2011/01/24/business/media/24carr.html
2.
Teen.com is a very controversial website that is heavily promoted Skins.
Teen.com's articles encourage children to watch this sleazy show.  Just make sure your parents don't find out. Where are you going to watch Skins? Are you going to have a party to watch the first show?
Teen.com is almost as disgusting as Skins.  They tell kids that the commercial for Skins is "hot" but the the longer trailer is even hotter… and here it is for you.  Brought to you by Alloy Media and Marketing owners of Teen.com.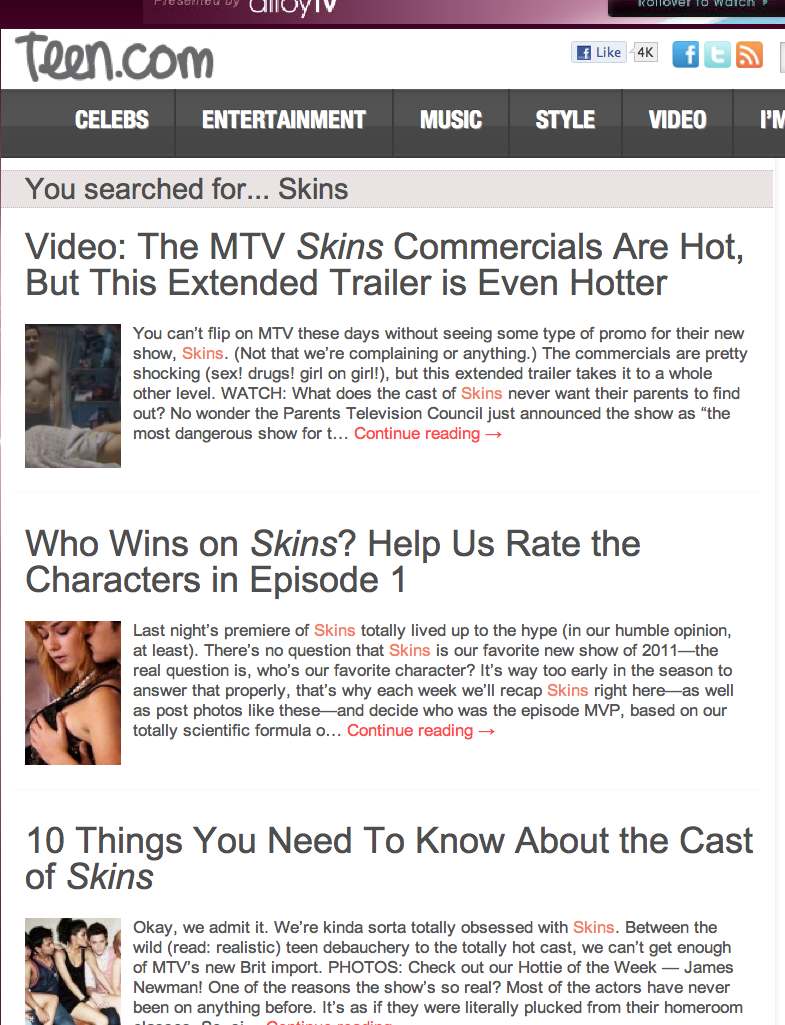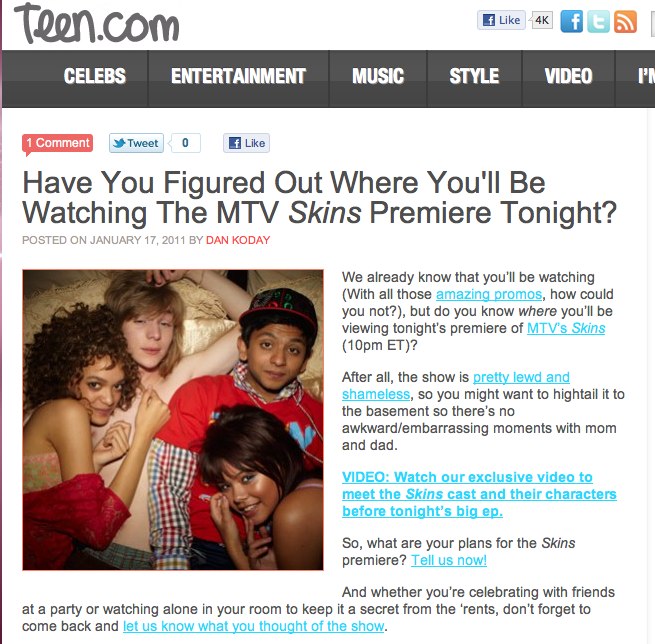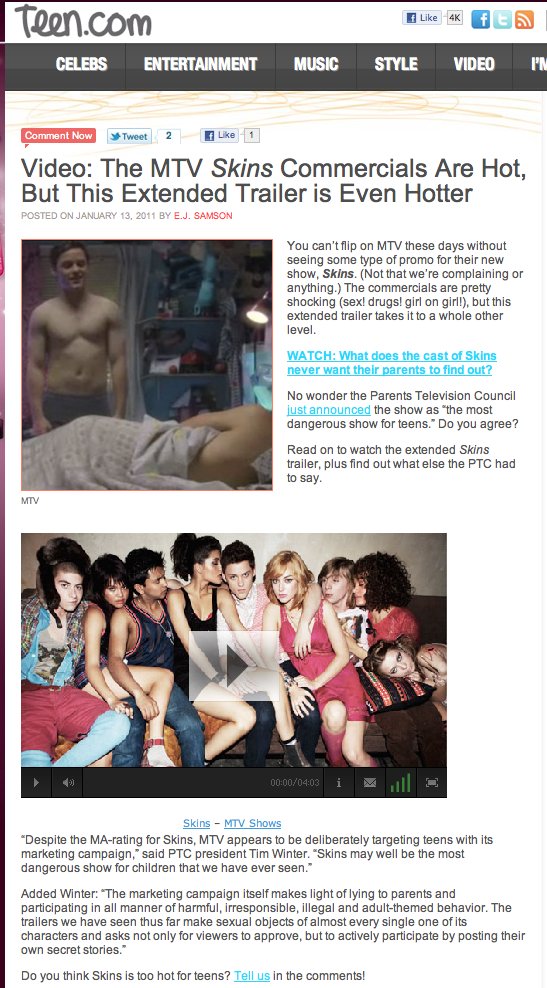 4.
Channel One News urges students to visit Teen.com
Alloy Media and Marketing not only own Teen.com but also the equally controversial Channel One News.  Channel One was purchased by Alloy in 2007 to help drive its millions of student viewers to Alloy's websites.  Here is one of the Teen.com commercials Channel One airs on its in-classroom show.  Students are compelled to watch Channel One and its commercials in order to keep their TV sets which Channel One has loaned them.  Channel One demands that students in a "Channel One school" be shown their daily TV show AT LEAST 90% of all school days.
5.
Take action.
Do you want to make a difference in your child's education and in the educational experience for all children in your community.   Ask your school to end the showing of Channel One News.  Even without the controversial ads for Teen.com and age-inappropriate movies, Channel One wastes too much school time.  It is often considered nothing more than an electronic babysitter for lazy teachers.
Get smart – read over this website and understand the Channel One controversy.  Call me, Jim Metrock, at 205.822.0080 if you need help mobilizing other parents and teachers.  Don't let these greedy kiddie marketers steal school time from you child.