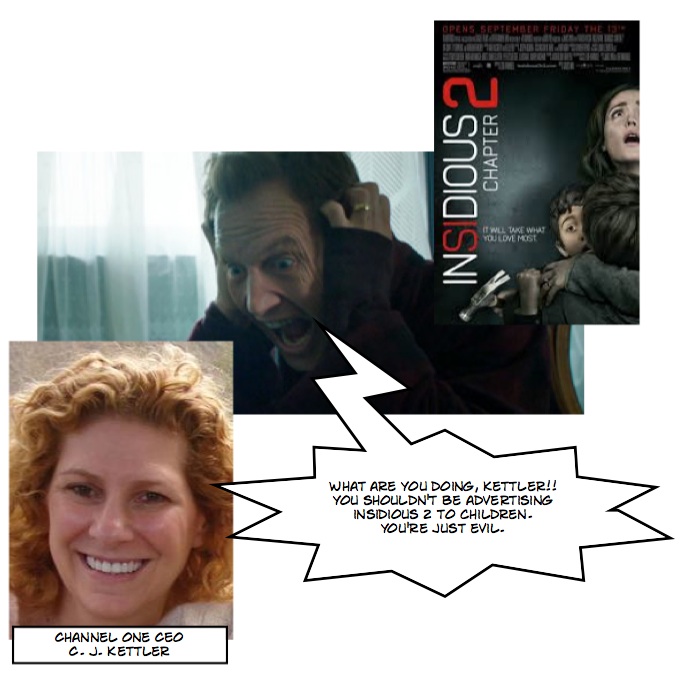 From Jim Metrock: I saw a movie today that was advertised on Channel One News. It was horrific. It was extremely violent. It was repulsive.
Channel One News is a small company. It's CEO Ms. C. J. Kettler has to know what is going on in every aspect of the company. She had to know this hard-PG13 movie was going to be pitched to middle school students.
I think what she did was awful. I think this woman needs to apologize to teachers, school administrators, school board members, and of course students.
This movie was about a man wanting to kill a baby. In one of the last ugly scenes of this Channel One News-advertised movie, a father is trying to bash his 10-year-old son's head with a hammer. This is vile stuff. What was Ms. Kettler thinking? Did she preview this movie before she approved the ad for other people's children? Does Ms. Kettler and other Channel One executives have an extraordinarily high tolerance for violent entertainment? 
[Interesting fact: Channel One News is owned by ZelnickMedia a company's whose main claim to fame is the ultra-violent Grand Thief Auto video game.]
Ms. Kettler you are not distinguishing yourself as Channel One's current CEO. Indeed, you may be extinguishing yourself.