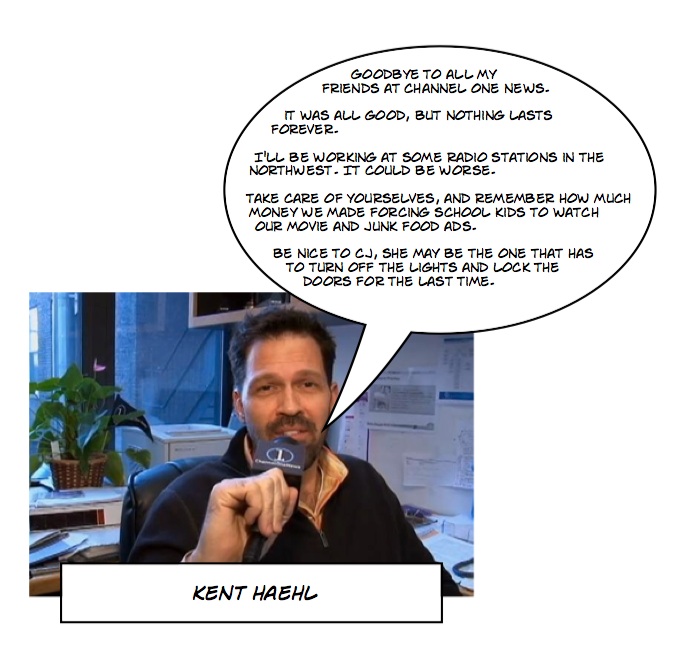 What Mr. Haehl might say if he ever gave an interview.
From Jim Metrock:
The Purge continues.
Channel One's long time sales manager, president, CEO, and most recently Chief Revenue Officer Kent Haehl is no longer employed by the company.  
CCME Seattle names Kent Haehl Market President
By cmarcucci on Jan, 29 2014 
Haehl will report to Hartley Adkins, Executive Vice President of Operations, Clear Channel Media and Entertainment. As Market President, Haehl will leverage Clear Channel Seattle's assets including its brands and audience to generate new revenue while providing quality programming.  He will oversee the market's overall operations including all station activities and events to help drive sales and achieve revenue targets. Haehl will join Clear Channel Seattle with more than 25 years of experience in the media industry, most recently serving as CEO of Channel One Network, a daily global television news network. His previous experience also includes senior sales and marketing roles at In-Store Broadcasting Network and Meredith Broadcasting Group/Meredith Corporation.
Read more at http://rbr.com/ccme-seattle-names-kent-haehl-market-president/#7ugxD5PqMyYgXO05.99
PS Kent, no need to embellish your resume with "Channel One Network, a daily GLOBAL television news network." Matter of fact you probably would have scored a better job without mentioning "Channel One" at all.