From Jim Metrock: It's June 2014 and I congratulate Channel One for winning four! Telly Awards. The article below was published on June 22, 2012., yet it is still timely.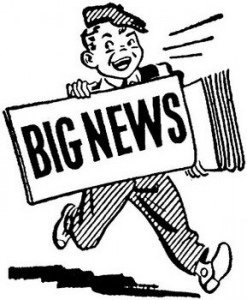 Channel One Wins Five!! Telly Awards
From Jim Metrock:
When Channel One News does something right, I have to congratulate them. Boy, did they knock it out of the park by winning five Telly Awards this week. Way to go, Kent. Magnificent, Angela. Congrats, Paul.
You might not have heard of the Telly Awards ("honoring the very best local, regional, and cable television commercials and programs, as well as the finest video and film productions, and work created for the Web") but they are a big thing, especially to those who win one. Even more so to those who win five.
Some on the Internet make fun of the Telly Awards. I am not one of them. Channel One would not have put out a press release about winning the awards if winning them was not a significant achievement.
Some naysayers make fun of the Telly Awards because it makes money off those who self-nominate themselves for the award. That's hogwash. The company handing out the awards has to pay expenses and make a good profit. Yes, there is an entry fee, but's that the American Way: You pay to play. There is nothing wrong with making money off a person and corporation that wants to be an "award winner."
People also make light of the Telly "winner's fee."
Each entry chosen as a Silver or Bronze Winner, be it a Telly Award or People's Telly Award, will be billed $170 plus s/h, for which they will receive one statuette and one commemorative certificate. 
BTW Channel One won two Silver awards and if you think that means second place, you are flat out wrong. Silver is the highest award and Bronze is second. So Channel One has every  reason to be bursting with pride.
As far as Channel One and other winners having to pay for their statuettes and nice commemorative certificates (suitable for framing, I bet), does anyone really expect the Telly Awards to dispense shiny statuettes for free?
Others say it is bogus for the Telly Awards to be given out by a company called The Telly Awards. I admit that smells just a little, but it's not a big deal. True, it is better for a recognized entity like the American Academy of Motion Picture Arts and Sciences or the National Academy of Recording Arts and Sciences to give out Oscars and Grammys, but if we as a country want more awards to be won by more people and companies, we have to have award-generating companies like the Telly Awards – and please don't call them "award factories," that is just irresponsible and mean spirited.
 Those who doubt the legitimacy of the Telly Awards don't understand the need for corporate image building. A firm is a WINNER, if they WIN awards. One is an AWARD WINNER, if one wins AWARDS. Awards, statues, certificates of achievement are vitally important in a world where image is everything. The people at the Telly Awards know it is better for a lot of entrants to be winners.
Which brings us to the silly complaint that the Telly Awards company gives out too many awards. They do give out hundreds and hundreds of awards but there are usually at least 11,000 people and corporations nominating themselves for the awards. According to Wikipedia (best source I could find) it is estimated that 7 to 10 percent of the entries receive Silver Telly Awards and 18 to 25 percent receive a Bronze Award. I feel that the cheap shots about too many awards are coming from the losers who paid a fee and thought a Telly Award was going to be dispensed like an ATM.
True there are a large number of winners but all the entrants have expended effort with each work and, doggone it, effort should be rewarded.  BTW I want to extend my congratulations to the Fairfax County Public School District in Virginia for winning three Telly Awards this week. Not quite the Channel One News achievement, but hey, you're teenagers.  Also the "lifestyle products" company Gaiam in 2008 said they had won 88 Telly Awards. Lord knows how many they have by now.
The large amount of winners comes from the unique Telly Award's policy of allowing multiple winners in a particular category. When the Academy Awards list the nominees for Best Picture there will be only one film that wins in that category. There is only one Best Picture and Best Director each year. We are used to that practice because it has always been that way, but that is so boring. Channel One's achievement by winning a Silver Telly Award in a particular category is not diminished in the slightest by other entrants winning the same Silver Award in the same category.
Telly Awards are primarily about honoring commercials and Channel One should not be ashamed of winning awards for its promotional efforts. Channel One's clients are the companies that advertise on Channel One News and on Channelone.com, not students or schools. It is fitting to be recognized for their marketing prowess. Kent Haehl, Angela Hunter and Paul Folkemer are consummate youth marketers and these Telly Awards are a well-deserved recognition for them. They don't get recognition from educators and educational organizations, so getting any validation from any source is a significant.
Channel One won these Telly Awards:
Ten Years In Afghanistan Series (Silver Award)
Delia's Promotional Spot (Silver Award)
FINRAFoundation Promotional Spot (Bronze Award)
Super 8 App Promotional Spot (Bronze Award)
Pop Quiz Challenge Special Edition (Bronze Award)
The Pop Quiz Challenge isn't listed as a "promotional spot" because it wasn't a "spot" it was a program-length commercial for four Disney/ABC television shows. I believe this deserved a Silver Award (highest honor) because it takes a truly extraordinary effort to make a 12-minute news show into a commercial. [Here is the actual show that won this Bronze Award.]
The Super 8 movie was heavily advertised on Channel One and the actors were allowed to be on the show to plug their movie. I don't know what "Super 8 app" means, but knowing Channel One I know it helped Paramount Pictures sell a lot of movie tickets.
From Channel One's press release:
"The Channel One team is extremely honored to receive such prestigious recognition by the Telly Awards for our programming efforts," stated Kent Haehl, CEO of Channel One News. "Our stellar news production team continues to deliver high quality work, and to be the recipient of multiple honors speaks volumes to our team's deep commitment and passion for news storytelling."
"We are incredibly proud of this distinguished achievement in broadcast programming," commented Angela Hunter, SVP, Executive Producer for Channel One News. "It is especially gratifying for our team to be recognized for their dedication to delivering standout programming on a daily basis that impacts an important generation of young viewers."
With 4 of the 5 Telly Awards coming because of Channel One's advertising expertise, when Mr. Haehl and Ms. Hunter say "standout programming" it is obvious they assume the reader understands that means "standout advertising."
What a glorious way for Channel One News to end their 2011-12 broadcast year. I sincerely hope Channel One has the available cash to pay the $850 (plus shipping and handling) for the statuettes.
_____________________________________________________________
 We also received a similar direct mail piece from the Telly Awards. According to their website, they received 14,000 entries last year from small agencies that were hoping to promote their businesses, each paying a minimum entry fee of $85.00. Do the math. That means that this questionable award generated at least $1,190,000.00 for its promoters!
_____________________________________________________________
Fake News Group Wins Fake Award For Fake Excellence in Venezuela Reporting
http://www.borev.net/2007/04/fake_news_group_wins_fake_awar.html
 _____________________________________________________________
I know nobody in the industry that is impressed with purchased awards. Anyone in production (and therefor, probably not a perspective client) knows what they are and either passed or laid down $250 for their own. Those not familiar with the award, well, are not familiar with it so it's not that impressive. If yer gonna lay down jack for a trophy, for for the regional emmy and when ya brag, just leave out the regional part. That seems to be general practice. 
I produce a weekly sportfishing program for FOX Sports West. I personally have 8 Telly Awards. And I can guarantee you, our sponsors and viewers could care less. Yes, it might look OK on your resume. Nothing wrong with that. But don't look for your phone to ring only because you are a "Telly Award Winner."