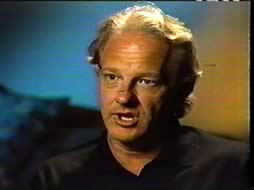 WIDTH="254″ HEIGHT="190″ ALIGN="LEFT" BORDER="0″ NATURALSIZEFLAG="0″> SIZE="+1″ FACE="Arial">March 1, 2000 – Channel One Returns to
Whittle Days in Stunning Announcement
Channel One has been without a permanent president for over six months. Today they announced the hiring of Jim Ritts as Channel One's new president. There is nothing "new" about Ritts. He was one of the co-founders of Channel One back when the controversial Chris Whittle owned the company (1989-1994).
In 1994, Whittle Communications was forced to sell Channel One to K-III Communications, a company owned by Kohlberg, Kravis and Roberts. K-III changed its name to Primedia in 1997.
Ritts was the marketing director for Whittle. He left Channel One in 1995 to run the LPGA golf tour. Last year he became the Chairman of Digital Entertainment Network, a youth-oriented web site. On February 14,2000 DEN announced the resignation of Ritts with little comment. On February 29, Tom Rogers, Primedia CEO, announces the hiring of Ritts as president of Channel One.
Jim Metrock, Obligation's president said, "A new century dawns and Channel One goes back to the Whittle days for their leadership. Jim Ritts was Chris Whittle's marketing director. Channel One has always tried to distance themselves from the excesses of Whittle's management. Now, incredibly, they go to the chief Whittle huckster for their leadership. Parents and educators should find no comfort in this hiring."
Metrock continued, "Primedia's hiring of Jim Ritts appears to indicate a new era of hard-nosed marketing to America's children. Channel One again has a marketing executive as its president. It should be clear to everyone that this company has little to do with journalism and education. It's all about pushing sleazy movies and junk food on schoolchildren."
"The Whittle days are back at Channel One. Hopefully, this will help galvanize communities into taking action to kick Channel One out of their children's classrooms," said Metrock.