On January 26, 2011 Channel One News had a feature story that had nothing to do with the news.  It was a "Road To Glory" segment which is sponsored by the U.S. Army who airs recruitment ads on the program.  This story is about how a stunt pilot named Kirby Chambliss who participates in air races.  This story is less about Mr. Chambliss than it is about his sponsor – the highly caffeinated Red Bull energy drink
Channel One's reporter Justin Finch interviews the pilot then goes up for a ride.  This would be a waste of school time even if there was something newsworthy about the story,but this was simply a commercial for Red Bull.
Red Bull is aggressively marketed by its sponsorships.  The Red Bull Air Race is just one of the ways this company promotes its brand.  Channel One News always desperate for cash probably made this deal without any reservations.  This is at least the second Red Bull story in the past six months.
Here are some frames from Justin Finch's ode to Red Bull.  Keep in mind that Channel One News is taped. If a scene is not perfect, they reshoot.  Everything in the frame of the shot is planned.  If they filmed Justin Finch accidentally without the Red Bull logo in the picture, they would do it over. The point of this story is to pound Red Bull into young minds.  Mr. Finch is particularly disgusting masquerading as a "journalist" when he is paling a dirty trick on the very kids who are forced to watch him.
All pictures are from video seen in classrooms. (See the video at http://www.channelone.com/video/ Click "more videos" under "Features" to find the Kirby Chambliss video.)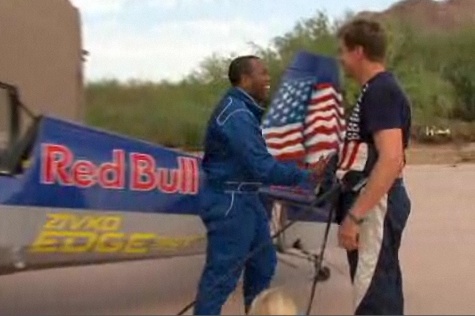 A small can of Red Bull (8.46 ounces) has 80 mg. of caffeine.  That's a cup of coffee.